FLIR E75、E85 和 E95 红外热像仪。 FLIR Exx series thermal imaging cameras are a new generation of advanced thermal imaging cameras for electromechanical, power plant and construction professionals, including: FLIR E75, E85 and E95 thermal imaging cameras.
红外热像仪 新品采用智能可更换镜头和色彩鲜艳的4英寸大触摸屏,拥有激光辅助自动对焦模式和面积测量功能,并且对FLIR引以为豪的专利型MSX成像技术进行了升级。 The redesigned new Exx thermal imaging camera with Wi-Fi function uses a smart interchangeable lens and a large colorful 4-inch touch screen. It has a laser-assisted autofocus mode and area measurement function, and is proud of its patented FLIR MSX imaging technology has been upgraded. These unique capabilities go hand-in-hand with higher sensitivity and native resolution, helping professionals identify hot spots or building defects early and avoid these potential problems that can lead to costly repairs.

---
Product introduction
手持红外热像仪 还具有激光距离测量功能,能确保精确的自动对焦,从而提高温度测量精度,尤其是FLIR E85和E95型号,提供可用于在屏幕上以平方英尺或平方米为单位进行面积测量的数据。 The FLIR Exx series handheld thermal imaging cameras also have a laser distance measurement function to ensure accurate autofocus, which improves temperature measurement accuracy, especially the FLIR E85 and E95 models, which can be used to display on the screen in square feet or square meters. Data for area measurements. In addition, the FLIR E85 and E95 models use better-performing thermal detectors with resolutions up to 464 × 348 (161,472 pixels) and measurable temperatures up to 1,500 ° C.
    Used in conjunction with FLIR Tools ™, the FLIR E75, E85, and E95 thermal imaging cameras become the first handheld thermal cameras in the Exx series to use Flir's embedded super-resolution magnification technology (UltraMax), which can increase the effective resolution to the original Four times (up to 645,888 pixels) and 50% higher thermal sensitivity. All models use significantly improved FLIR MSX technology, combined with a 5-megapixel visible light camera, to produce sharper, more readable images. These improvements combined with a 33% brighter and 30% larger display than previous Exx models can produce thermal images with more vivid colors and richer details.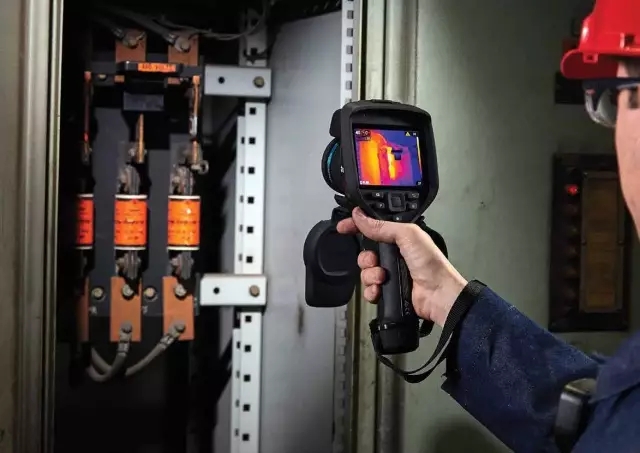 FLIR Exx series infrared camera features:
        • Up to 161,472 measurement points
• UltraMax® processing for 4x pixel resolution
• Best MSX® enhancement technology
        • Laser rangefinder improves autofocus performance, providing distance and screen area area measurement
• Larger 4-inch display with 33% higher brightness than before
       • New responsive interface
• Improved organization and reporting options
仅限E85/E95 • E85 / E95 only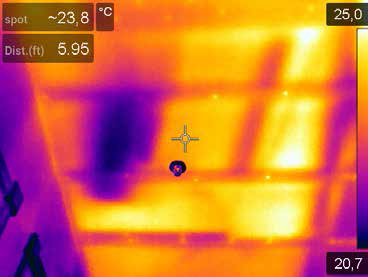 ---
Product Features
查看更多详情 1- See more details
           • Brightly colored LCD display is 33% brighter than earlier models
           4英寸大显示屏,配有160°视角 • Large 4-inch display with 160 ° viewing angle
           高达464 x 348红外分辨率 • Up to 464 x 348 infrared resolution
           改善的FLIR MSX®图像增强技术, • Improved FLIR MSX® image enhancement technology,
调焦快速且准确 2- Focusing is fast and accurate
           激光辅助自动调焦提高了温度测量的精度 • Laser-assisted automatic focusing improves the accuracy of temperature measurement
           • Continuous focus mode for fast response, helping safe one-handed operation
           • Independent autofocus and recording function prevents accidental refocusing
快速发现建筑缺陷 3- Quickly find building defects
           • Detects temperature differences as low as 30mK
           • 42 ° field of view for wider area measurement with a single lens
           • Area of the area on the screen showing moisture intrusion or air leakage (m2) *
           • E85, E95 only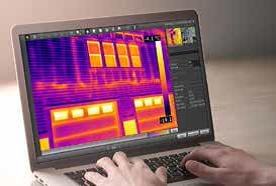 设计时考虑用户需求 4- Consider user needs when designing
    Best shot
    Requires optimal autofocus
When redesigning the Exx series focusing system, FLIR took full advantage of the inspiration gained from the digital camera industry. Whether you choose auto focus or continuous focus, the camera's precise laser-assisted focus and FLIR's innovative lens ensure you get the sharpest images and the most accurate temperature readings.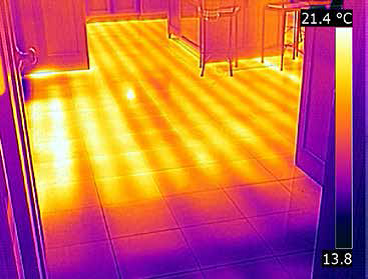 工作更安全 5- Work safer
Users may need to climb the stairs or enter a space covered by electrical wires or water pipes to work, so they need tools that can be used with one hand and are safe to use. FLIR has designed the new Exx series of thermal imagers, which are rugged and can be used every day. The simple buttons and intuitive screen allow users to focus on their work-instead of the camera control buttons.

工作更智能 6- Work smarter
The new Exx series thermal imagers generate standard JPEG images that can be opened and viewed without any software. The image files generated by the Exx series thermal imagers can be processed using the FLIR software development kit (ATLAS SDK). This feature allows users to use their own software to obtain data in the heat map, including thermal measurements, METERLiNK® data, and other important parameters embedded in the image. Also obtain current and voltage measurements embedded in heat map files.
---
、产品型号对比
Comparison of product models
---
诺
Fourth, service commitment
    Dear customer, hello, welcome to the official website of Spectrum Alliance Optoelectronics. We are the authorized distributor of FLIR (Infrared Camera) in China and can directly obtain the project authorization of the corresponding model of FLIR headquarters.
All FLIR thermal imaging camera products purchased from our company enjoy a 1-year warranty. If the information is successfully registered on the FLIR official website, the warranty can be extended to 2 years, and the detector can enjoy a 10-year warranty.
For details and appointments, please contact: 400-920-2866