In the fixed installation, the infrared camera (such as FLIR A310 / A300) can be installed in almost any position, for you to monitor key equipment and tower valuable assets. It protects your plant, measures temperature differences, and assesses risk. This way, you can spot problems before you suffer losses, thereby avoiding downtime and increasing worker safety.
---
1. Appearance of FLIR A310

---
Product main features
● 仅限 FLIR A310 ):点测温、区域测温及各种温度测量功能 Comprehensive built-in analysis function ( FLIR A310 only ): spot temperature measurement, area temperature measurement and various temperature measurement functions
● 仅限 FLIR A310 ):是一种内部温度或数字输入的分析功能。 Built-in alarm function ( FLIR A310 only ): It is an analysis function of internal temperature or digital input.
● /IP 及 Modbus TCP 兼容性( 仅限 FLIR A310 ) Ethernet / IP and Modbus TCP compatibility ( FLIR A310 only )
● (以太网供电):通过一条线缆实现通信和供电双效果 PoE (Power over Ethernet): Dual effect of communication and power supply through one cable
● / 输出( 仅限 FLIR A310 ):适用于报警及外部设备控制 Digital input / output ( FLIR A310 only ): suitable for alarm and external device control
● PAL 或 NTSC 的复合视频输出 Video output: composite video output supporting PAL or NTSC
● 25 °镜头。 Lens: Built-in 25 ° lens with motorized and autofocus functions . Other optional lenses available.
         取决于被测物体的尺寸大小及观察距离 如下: The optional lens depends on the size of the measured object and the observation distance is as follows:
         Long distance is recommended to increase the telephoto lens, the same pixel, the smaller the lens angle, the farther away, such as 15 ° and 6 °;
A wide range is recommended with a wide-angle lens, such as a 45 ° lens;
         If the components on the object to be measured are small, it is recommended to add a microscope lens, such as a 100μm / 50μm / 25μm lens.

● 0.05 ℃:能够捕捉最细微的图像细节和温差信息。 High thermal sensitivity, < 0.05 ℃: Capable of capturing the most subtle image details and temperature difference information.
● 位图像:向 PC 发送 16 位辐射图像数据流,以供分析。 16 -bit image: sends a 16 -bit radiation image data stream to the PC for analysis.
● 100Mbs 以太网接口 Built-in 100Mbs Ethernet interface
● IP66 (防潮、防尘、防水),不影响热像仪的任何功能。 Package selection: The package cover can be upgraded to IP66 (moisture-proof, dust-proof and waterproof), which does not affect any function of the thermal imager.  
      。 This FLIR A310 is a very flexible on-line thermal imager device that can be integrated according to your needs to solve your problems in all directions .
---
         Encapsulation effect    
     For the above three packaging effects, only the first packaging mode is suitable for A300 and A310, and the second and third packaging modes are only suitable for A310; because A300 is more suitable for fixed-point observation and monitoring, and A310 can be rotated flexibly;
---
Product application areas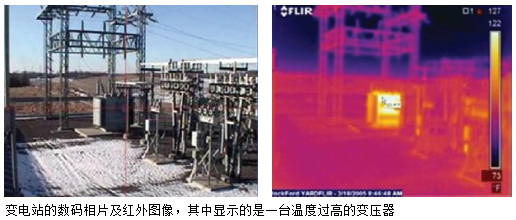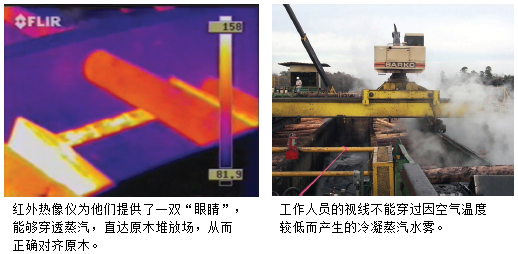 Industries that benefit from the technology?
Oil and gas industry
          Refineries, oil production stations, petrochemical plants:
——Quality control in the process of natural gas processing, transportation and storage and storage areas
Power generation and distribution
        ——Monitoring of key equipment in fire-resistant substations in fire-resistant waste storage areas   For Substation Robot Inspection System
FLIR A310 is used for substation inspection robot monitoring:

---
Product software
         According to customer needs, we are equipped with professional software to provide:
I. FLIR supporting software (FLIR Tools and FLIR Tools +)
        Second, the stand-alone version of software developed by our company
Third, we can also provide SDK source file packages for your development
For more details, please contact: 021-64298589, our R & D technical team will answer all your questions
---
V. Conclusion
How to automatically ensure quality and prevent fire detection is important to any industry. The fixed infrared camera is an excellent solution to this kind of problem. It can help you continuously monitor the production process or various assets and detect the temperature difference 24 hours a day. This technology has been widely used in many industrial automation applications worldwide.
    热成像仪适用于过程开发及优化、工业过程监控、产品验证、品质保证、安防等众多应用领域,堪称一种经济实惠的全方位热成像及测量解决方案。 FLIR A310 / A300 thermal imager is suitable for many applications such as process development and optimization, industrial process monitoring, product verification, quality assurance, security, etc. It is an economical and comprehensive thermal imaging and measurement solution. Under most working conditions, even in the measurement environment with smoke or steam, the infrared camera can accurately detect very slight temperature differences.