Automated monitoring: speeding up the design process with infrared cameras
    A fixed-mount infrared camera (such as FLIR A615 / A315) can be installed in almost any position, and it can monitor the production process and detect the thermal image by detecting and measuring the temperature difference. FLIR A315 / A615 is a series of compact and economical infrared cameras, which are fully controlled by a PC. The FLIR A315 / A615 complies with standard requirements and is plug-and-play with third-party machine vision software such as National instruments, Cognex, Matrox, and Stemmer Imaging.
---
Product appearance

---
点 Product main features
        符合 GigE Vision 标准:行业首例。 ● Compliant with GigE Vision standard: the first in the industry. 是一个新的摄像机接口标准,借助 GigE Vision ,来自不同供应商的硬件和软件可无缝结合到 GigE 接口中。 GigE Vision is a new camera interface standard. With GigE Vision , hardware and software from different vendors can be seamlessly integrated into the GigE interface.
        ● GenlCam 协议:行业首例。 Support GenlCam protocol: the industry's first case. 旨在为各种摄像机提供通用编程接口。 GenlCam is designed to provide a universal programming interface for a variety of cameras. 协议还可让第三方软件与摄像机结合在一起使用。 The Genl Cam protocol also allows third-party software to be used with cameras.
16 位温度线性输出:支持以非接触式模式进行温度测量,可以集成入任何第三方软件。 ● 16 -bit temperature linear output: supports temperature measurement in non-contact mode, which can be integrated into any third-party software.
像素分辨率: 640 × 480 像素仅限 A615 ,更为清晰地探测到更远的距离。 ● Pixel resolution: 640 × 480 pixels is limited to A615 , which can detect a longer distance more clearly.
● FLIR A615 。 High-speed window: FLIR A615 only .
● A315 及 A615 均可选配对应的镜头。 Lens optional: A315 and A615 can be equipped with corresponding lenses.
---
Third, optional lens and package
    FLIR A315 optional lenses are: 6 ° magnification 3.5x lens, 15 ° magnification 2x lens, 45 ° wide-angle lens, 90 ° wide-angle lens, 25μm magnification 1x macro lens, 50μm magnification 2x lens, 100μm magnification 4x lens.
In summary, it is recommended to add a telephoto lens, such as 15 ° and 6 °, for a long distance; a wide range lens is recommended to be added, such as a 45 ° lens; and the component to be measured is extremely small, it is recommended to add a microscope lens.

FLIR A615 optional lenses are: 7 ° magnification 3.6x lens, 15 ° magnification 1.7x lens, 45 ° wide-angle lens, 80 ° magnification 3x lens, 50μm magnification 3.9x macro lens, 100 microns magnification 5.8x macro lens;
The same as above;

Temperature expansion component selection: FLIR A315 can measure the highest temperature up to + 1200 ° C (with temperature expansion component); FLIR A615 itself can measure 2000 ° C;
   Encapsulation mode:

---
Application fields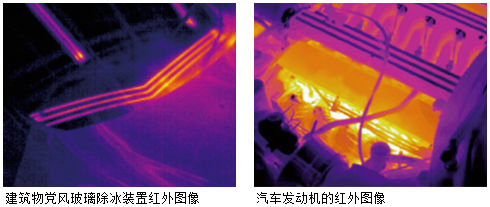 Industries that benefit from the technology?
           Automotive industry
Car, commercial vehicle, engine manufacturing and contractor servicing the automotive industry:
           ● welding
           ● Car seat heating
           ● De-icing inspection of windows
           加热机空调功能 ● heater air-conditioning function
           ● Casting of plastic or metal parts
           ● Quality inspection of laminates such as dashboards
           ● Quality inspection of leather upholstery
           ● Tire friction control
           电子器件 ● Electronics
          电子器件设计、PCB及部件制造、电子器件组装: ● Electronic device design, PCB and component manufacturing, electronic device assembly:
           ● 测试、检验及验证 PCB testing, inspection and verification
           ● Circuit board assembly fault tracking
           ● Power electronics design
     The following is a company's test car exposure experiment, installed FLIR A615 infrared camera equipment:
It is used for high-temperature exposure to watch the car for paint peeling and other abnormal conditions for a long time;
The equipment is installed in the air-cooled protective cover, which is convenient for the equipment to be damaged under high temperature for a long time. The data observed by the online thermal imager is uniformly transmitted to the terminal analysis platform, which can be viewed in real time simultaneously;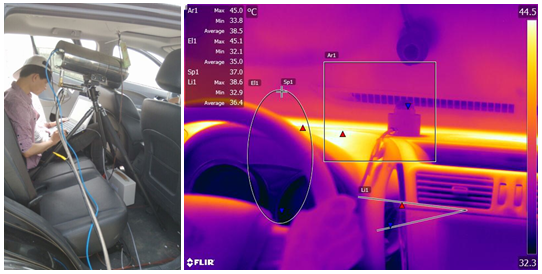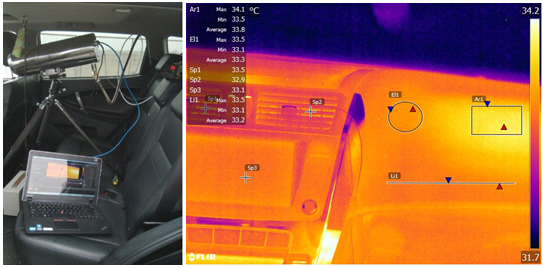 ---
V. Service Commitment   
    Dear customer, hello, welcome to the official website of Spectrum Alliance Optoelectronics. We are the distributor of FLIR (Infrared Camera) in China and can directly obtain the project authorization of the corresponding model of FLIR headquarters.
, 整机一律享受1年质保,若在FLIR官网进行信息注册成功后,整机质保可延长至2年,探测器则可享受10年保修。 All FLIR thermal imaging camera products purchased from our company enjoy a 1-year warranty. If the information is successfully registered on the FLIR official website, the warranty can be extended to 2 years, and the detector can enjoy a 10-year warranty.
    For more information, please contact: 400-920-2866