Advanced thermal imaging camera with excellent ergonomics, flexibility and high image quality
The FLIR T600 series is capable of generating clear infrared images of 640x480 pixels, with very small details clearly visible. The T600 series is flexible, can meet all your needs, and has a variety of communication methods.
Compared with the FLIR T400 series, the FLIR T600 is more high-end (higher resolution and thermal sensitivity) and can bring you clearer image shooting for fault analysis.
---
  I. Product use method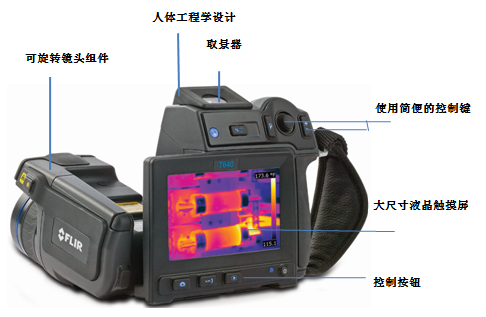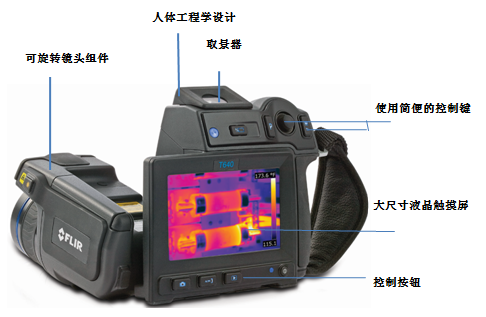 ---
Product Features
        Best Ergonomics
        Covers all angles-faster imaging-more comfortable work
The T-series cameras have unparalleled flexibility, making it easy to aim, focus and use.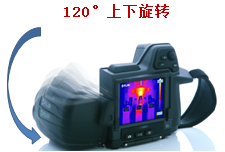 Fast communication
          Generate data on the fly and return decisions faster
          Share images and embedded table data via wireless channels or FLIR tools (PC or MAC version).
            ● 工具移动应用程序可连接相机与移动设备,从而使您能够对现场热视频进行流处理、采取远程控制、分析存储的图像,并迅速通过电子邮件传送现场发现。 The FLIR Tool mobile application connects cameras and mobile devices, enabling you to stream live video, take remote control, analyze stored images, and quickly send live discoveries via email.

            FLIR MeterLink® ● FLIR MeterLink®   Test and measurement tools transmit readable data directly to the camera, and the camera stores the data from the radiation image for use in reports when you capture the data.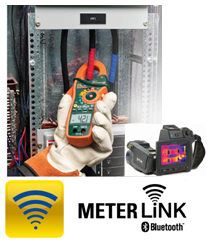 ● FLIR   The tool reporting software also provides more features to add more measurement tools to the image, generate in-depth reports, and update camera firmware.
            Limit resolution
            FLIR T600 series handheld products with the highest imaging performance and accuracy
            ● 种出色的分辨率选择:FLIR T600- 480×360 ( 172,800 像素);FLIR T610、T620、T640及T660- 640×480 ( 307,200 像素)。 Three outstanding resolution options: FLIR T600- 480 × 360 ( 172,800 pixels); FLIR T610, T620, T640 and T660- 640 × 480 ( 307,200 pixels).
            Ultramax function: Except the FLIR T600, which is not available in the other models, the image quality is enhanced to (1280 * 960 pixels);   
            ● 热影像还包含可见性相机的一些可识别细节(如数字、标签和其他关键特征),可以更好地将您定位至问题区域。 The MSX® thermal image also contains some recognizable details of the visibility camera, such as numbers, labels, and other key features, to better position you to the problem area.
            ● FLIR T660可实现< 0.02 ℃的最佳灵敏度 ,其中FLIR T640可达到<0.03℃,其余热灵敏度<0.04℃; In fine thermal mode, FLIR T660 can achieve the best sensitivity of < 0.02 ℃ , of which FLIR T640 can reach <0.03 ℃, and the remaining thermal sensitivity is <0.04 ℃;
            ● 2,000 ℃ 。 When measuring the highest temperature target, the highest temperature can reach 2,000 ℃ .

             increase productivity
            More built-in features for more powerful features

---
Product model

         For special cases, the temperature expansion component can be extended to minus 60 ° C by adding temperature expansion components.
---
Product application areas
The FLIR T600 series belongs to the high-end handheld series and is widely used in various industries. Whether it is power, industrial testing or high-end R & D, this is the best choice.
The T600 series is the easiest and fastest option for you to capture and share results. It is the ultimate solution to release FLIR energy!
该款热像仪即可支持手持,又可支持在线监测) ( This camera can support handheld and online monitoring)
---
Five, product software
In the T600 series, FLIR T610 supports Tools and Tool + software. FLIR T620, T640 and T660 can not only meet the Tools series software, but also support high-end R & D software Research IR R & D software (for high-end R & D fields).
---
诺 Six, service commitment
    Dear customer, hello, welcome to the official website of Spectrum Alliance Optoelectronics. We are the authorized distributor of FLIR (Infrared Camera) in China and can directly obtain the project authorization of the corresponding model of FLIR headquarters.
All FLIR thermal imaging camera products purchased from our company enjoy a 1-year warranty. If the information is successfully registered on the FLIR official website, the warranty can be extended to 2 years, and the detector can enjoy a 10-year warranty.
For details and appointments, please contact: 400-920-2866